Corporate Citizenship, the global consultancy specialising in sustainability and responsible business, are pleased to announce that Dr Jeremy Osborn has joined as Regional Director, UK and EMEA.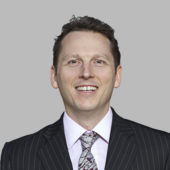 Jeremy joins from EY, the global professional services firm, where as Head of Client Services for EY's Beacon Institute he helped convene an international community of CEOs to advance the global purposeful company movement. Drawing on his deep experience of sustainability consulting, Jeremy supported the development of new purpose service lines at EY, providing advice to clients on how to embed and activate purpose and leading on EY's world-class thought leadership and research. 
During his time at EY, Jeremy also led the development of EY's global services in Integrated Reporting and natural capital accounting, working with a broad range of UK and international clients on embedding integrated thinking and measuring and valuing their societal impacts. Jeremy was seconded to The Prince's Accounting for Sustainability Project (A4S) to help develop practical guidance and tools for CFOs and CEOs on how to embed sustainability into organisational decision-making and reporting. Prior to EY, Jeremy was a member of the senior leadership team of Accenture's sustainability services, where he developed a specialism in sustainability and performance management. Jeremy is a Fellow of the Chartered Institute of Management Accountants.
Jeremy comments: "I am delighted to have joined Corporate Citizenship as the Regional Director for UK and EMEA. Corporate Citizenship has been a pathfinder in sustainability for more than twenty years and has advised many of the world's leading companies on how to identify, articulate and embed their sustainability strategy. This is an exciting moment in Corporate Citizenship's trajectory and I am really looking forward to working with our clients, helping them integrate their sustainability strategy with their business strategy and account more fully for the value they create for society."
Jeremy will be working closely with CEO Neil Davy to grow Corporate Citizenship's footprint in the UK and continental Europe and unlock potential in the Middle East and Africa.
Neil comments: "Jeremy joins Corporate Citizenship at an exciting time for the business and our clients, as the sustainable and responsible business agenda increasingly proliferates all aspects of business and is recognised as a collective responsibility among Executive and Board-level clients. 
Jeremy's mix of senior level consulting experience, specialist knowledge and industry credentials ideally position him to lead our UK and EMEA business and play a vital role as a member of our new Senior Leadership Team as we embark on an exciting new direction for the company."