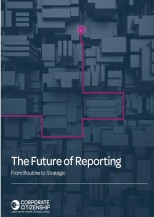 JUNE 2015
Is sustainability reporting really worth the effort? We certainly think it is, and with this report, let us show you how to take reporting process from routine to strategic, as we explore why and how some companies are moving away from the status quo of tried-and-tested, technical reports to using reporting as a strategic means of connecting with audiences.
We were joined by Citi and Ayala Corporation for an accompanying 'The Future of Reporting' webinar, in which we discussed all things reporting. If you missed the webinar, you can catch up here.
Click here to download the report.