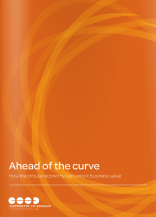 OCTOBER 2014
Ahead of the curve: How the circular economy can unlock business value.
The paper address the following themes:
1. Why we believe the time is now to start thinking about a new economy
2. The challenges we currently face in the existing economy
3. Four key benefits of moving towards the circular economy – including new revenue streams, cost savings and enhanced stakeholder relationships
4. Practical ways in which circular thinking can be implemented
Click here to download the report.