Listening to your stakeholders is an essential part of prioritising your sustainability challenges. As Director of Corporate Social Responsibility at luxury holding company Richemont, I have co-ordinated the process of materiality assessments to understand these views over many years. In truth, the results can often be predictable. This is what happened with our 2019 materiality assessment. The same issues prioritised by the "typical" stakeholders can create an air of complacency: that you've got their concerns covered. But it raises the question as to whether you're truly capturing all the perspectives needed to meet future expectations. So, with Corporate Citizenship, we conducted a second study, listening only to those aged 25 and under. This was to be a tailored materiality assessment: the Gen Z Edition.
Gen Z might not immediately seem like a key stakeholder group for a company that holds some of the most prestigious names in the luxury industry, such as Cartier, Van Cleef & Arpels and YOOX NET-A-PORTER GROUP. But at Richemont, this cohort of under-25s are already being employed across our Maisons and, for some, increasingly represent our customer base, particularly in the Asia-Pacific region. Over the course of the next decade, this generation will become ever-more important, and the perspectives they have of Richemont and luxury goods now will likely influence our future relationship. Therefore, understanding Gen Z is critical to the future of our business.
We already know that Gen Z want to work for companies with purpose, buy from businesses that tackle social and environmental problems, and expect greater product and corporate transparency. But while independent reports give an indication of these general trends, we felt the only way to understand what this means for Richemont is by listening to them through a materiality exercise. In particular, we wanted to compare Gen Z's prioritisation of our sustainability challenges with the results of our previous exercise with more traditional stakeholders. To do this, we asked Gen Z luxury customers, sustainable luxury opinion-formers and our own Gen Z employees to rank the original issues list. This saw us engage with luxury Instagram influencers, luxury design professionals and founders of ethical luxury retail platforms, among many others.
Comparing Gen Z's prioritisation of sustainability issues for us with what our typical stakeholder said, highlighted a number of insights. First, climate change rose to the top of the list as the most significant issue for Richemont. While already considered a major issue by our typical stakeholders, Gen Z ranked this as their undisputed top priority. After a year of climate strikes and Greta Thunberg, this finding was not surprising, but it added yet more weight to the Gen Z call for action on the issue. Similarly, the environmental concerns of biodiversity, animal welfare and a circular economy were all given greater importance by Gen Z than the stakeholders in our original assessment.
Another area where Gen Z raised the dial, was on diversity and inclusion. Previous stakeholder engagements have consistently raised this as a top issue for us, but the expectation of those under 25 pushed this topic even further up our priorities. Being raised in a globalised world with a more fluid understanding of aspects of identity, including gender and ethnicity, it is not surprising that Gen Z are expecting organisations to demonstrate greater inclusivity.
Other findings challenged intergenerational assumptions about what is a priority issue and what is a "hygiene" issue, ie standard business practice. For instance, human rights and labour standards in the supply chain was a top priority issue in the original materiality assessment. For Gen Z, this was still important, but its final ranking and qualitative feedback suggested this was now merely a basic expectation of any business.
How we give to the community was another area where generational differences were apparent. For Gen Z, traditional models of philanthropy and community investment were considered low priorities. However, achieving a positive social impact was considered important, highlighting an expectation for real social change to be embedded within regular business activities.
These findings provide just a flavour of what listening to youth revealed for Richemont. We now understand the concerns of our stakeholders of today and of tomorrow to a much greater extent. This may not radically change our strategic direction – climate change, human rights and social impact were already among our priorities – but it may influence the way we phase our activities and target our communications.
Listening to youth now should lead to better stakeholder relationships in the decade ahead. Thus, the Gen Z Edition became part of Richemont's movement for better luxury.
All opinions are the author's own.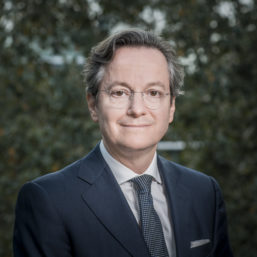 Matthew Kilgarriff
Director, Corporate Social Responsibility
Richemont International SA