Educating children, especially girls, is crucial to eliminating poverty. It is closely linked to other Sustainable Development Goals (SDGs) such as health, gender equality, peace, and stability. Education has long been on the agenda for charities, UN agencies and businesses. We have also seen numerous corporate community investment programmes focused on education, not only to equip future workforces, but also to equip society with the means to economically progress. And yet still people are excluded from society and employment through a lack of or poor education.
The second Millennium Development Goal  (MDG) had a narrower focus on primary education than its successor SDG. Whilst progress has been made on this target with enrolment in primary education in developing regions at 90 percent in 2010, 58 million children of primary school-age were still out of school in 2012. That's one in ten kids that don't get a basic education.
SDG #4 builds on the MDGs by setting broader and more ambitious targets to:
Ensure access to early childhood development
Increase the number of youths and adults with relevant skills for employment
Achieve equal access for men and women to university education
Ensure all youths achieve literacy and numeracy
Provide inclusive learning environments for all, regardless of gender and disability
We need to consider every connotation of the goal, to be successful in ensuring inclusive quality education. It's about delving further into associated educational issues and improving the quality of education with teacher training, providing educational materials, ensuring school children don't go hungry and improving sanitation in schools. What's the point in having access to education if you are so hungry you can't even concentrate, you can't afford the bus fare, or you catch diseases from school facilities?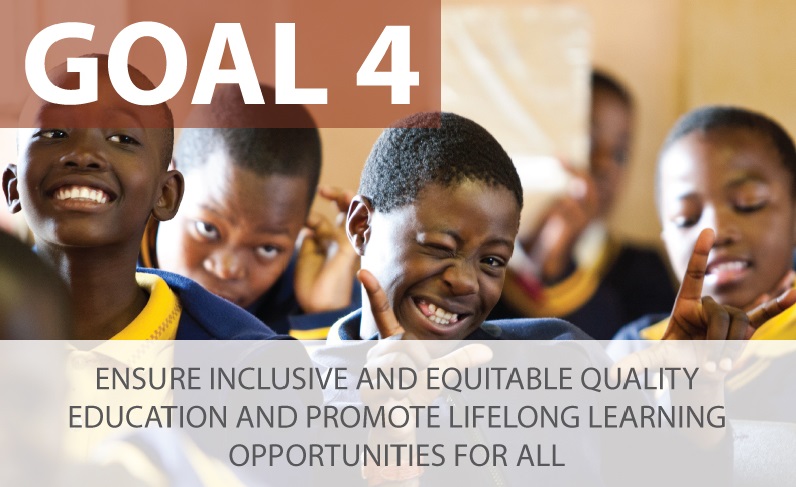 So what does SDG #4 mean for businesses?
Businesses must understand that education is not only a key piece of the puzzle for poverty eradication. It also crucial to develop the future workforce, foster innovation, and generate stable and more prosperous societies. They need to take proactive roles in education, using their expert skills and interest in innovation to create shared value. In practice this means raising educational performance levels, shaping aspirations and creating a productive workforce.
A number of companies are already utilizing this approach in their education programmes. Coca-Cola runs an educational programme in the UK with Education Centres in their factories hosting workshops on manufacturing and innovation. Barclays works with NGO partners worldwide to equip young people with skills needed to find employment. H & M has focused on increasing access to early childhood development programmes. And Tata Consultancy Services runs an adult literacy programme in India.
Businesses can also play an important role in addressing the periphery issues that hinder education by aligning operations, employee skills and community investments. For example:
UNICEF has shown that WASH projects in schools can increase school attendance and performance. Unilever's sanitation programme provides hygienic toilet facilities in schools. Whilst the Toilet Board Coalition is a business led coalition aiming to develop commercially viable solutions to the sanitation crisis.
Agroamerica supplemented children's diets with bananas to combat malnutrition, and reinforced the health and hygiene education of families.
Capgemini provides underprivileged girls in India with academic support and material support in the form of uniforms, clothes and stationery.
One thing we must remember is that education is a universal issue. An educational programme in a developing country will look different to one in Europe. But in both cases, businesses have a lot to give and a lot to gain by harnessing their expertise to secure a quality education for all.
Cathy Moscardini, Intern, Corporate Citizenship
You can view Corporate Citizenship's full SDGs 2015 blog series here.