First announced at the COP26 Climate Summit in Glasgow in 2021, the Transition Plan Taskforce (TPT) was established with the mandate to develop the 'gold standard' of transition planning for organisations in their strategy to move towards a net-zero economy. After two years, multiple consultations and a build of international momentum, the final framework was launched on October 9th 2023.  Speaking at the launch, TPT co-chair and CEO of Aviva, Amanda Blanc, commented that 'backing up net-zero ambitions with high-quality and clear transition plans is crucial if we are to collectively deliver net zero.' Alongside an updated Disclosure Framework, the TPT has launched a suite of further guidance including recommendations on each sub-element, specific guidance for 40 sectors[1], and a series of works mapping the guidance against other international standards. Largely, the TPT has ensured the framework is aligned with the Glasgow Financial Alliance for Net Zero (GFANZ) framework, arranged under the same five elements; Foundations, Implementation Strategy, Engagement Strategy, Metrics & Targets and Governance.
In recognition that the framework may still be difficult to practically implement, the TPT has also prepared online guidance on the Transition Planning Cycle, and have continuously reiterated that plans are designed to be iterative and dynamic. They have also provided examples and further guidance under each sub-element. If one thing is consistent throughout the framework, it is that companies are encouraged to link all activities to their strategic ambition, in other words their overarching aims for the plan.
So what has changed?
As it stands, the updated framework will be largely familiar to those who have seen the first iteration. Guided by the principles of ambition, action and accountability and underpinned by five disclosure elements, which are then supported by 19 sub-elements. A comparison between the two frameworks can be found below to highlight the most notable updates;
Foundations
This element has been slightly altered and expanded upon, with an additional sub-element 'key assumptions and external factors' added, requiring entities to disclose the underlying factors upon which their ambition relies on.
Implementation Strategy
The framework has removed 'sensitivity analysis' as a sub-element, an area previously highlighted as challenging in the TPT's July update. The updated guidance also removes the expectation of quantification of activities in many cases. Instead, entities are advised to consider how their activities will contribute to the overall 'strategic ambition' of their plan.
Nature, Just Transition and Adaptation
The finalised framework clarifies the TPT's guidance on incorporating broader sustainability concepts of nature, adaptation and just transition, following on from consultations from working groups on the topics. Entities are encouraged to disclose policies in relation to their impact on communities, including human rights and labour standards, and to consider the risks of using carbon removal technologies, on both the natural environment and wider society. Broadly speaking, aligning your transition plan approach with principles of a Just Transition not only meets the expectations of the TPT, but can generate mutual benefits for society and the natural environment.
International alignment
Concerns had been raised about the inoperability between the existing GFANZ, ISSB AND IFRS frameworks. In response, the TPT has published two technical mappings comparing the main provisions of the TCFD Recommendations, and the IFRS S2 disclosure requirements. Additionally, they have published a technical mapping identifying relevant elements of the European Sustainability Reporting Standards (ESRS). The final pages of the Disclosure Framework provide a high-level mapping of the relevant IFRS S2 requirements, and states that the expectation of a good practice disclosure would align elements within ISSB disclosures.  These are designed to support preparers when integrating content from their transition plan into fully-aligned disclosures. The London Stock Exchange Group, in collaboration with stakeholders across initiatives, has produced the below visualisation as guidance for how the frameworks fit together.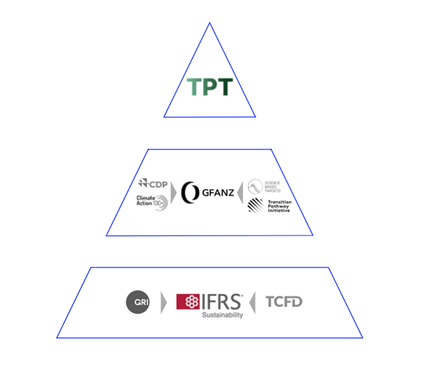 Get started
In November, the TPT is expected to release sector-deep guidance for seven sectors; asset owners, asset managers, banks, electric ultilities, food & beverage, metals & mining and oil & gas. The following February, it is expected that final sector deep dives will be published. In August, the FCA announced their intentions to strengthen their expectations for disclosures, based on the ISSB standards finalised  TPT framework. Director Sacha Sadan commented earlier this week that 'In the meantime, we encourage listed companies and regulated firms to engage early with the framework- and get started.'
Now that the guidance is finalised, the pressure is on for companies to start drafting and disclosing their plans, with many high-profile firms publishing earlier this year. Figuring out how your disclosure aligns with the confusing landscape of corporate standards can be a difficult task, even with the guiding materials. Our team at Corporate Citizenship (part of SLR) are well-positioned to help your business navigate this landscape, at whatever stage of transition planning you find yourself.
Get in touch with us today to discuss all things Transition Planning.
Comparison between Draft and Final Disclosure Framework
Draft Disclosure Framework, released November 2022.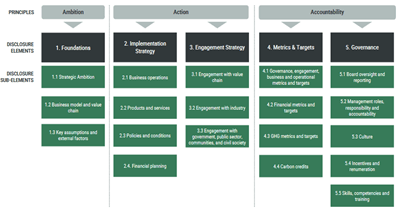 Final Disclosure Framework, released October 2023.
[1] Currently, these are still open for consultation, and the TPT is welcoming feedback on the sector summaries which cover decarbonisation levers and metrics and targets.